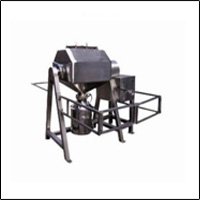 Octagonal Blender is a simple unit used for dry blending and lubrication of powder and granules. It uses the principle of tumbling of powder in a partial void to cause mixing. Motion is achieved by means of a motor coupled to a gearbox and final speed reduction through chain driven assembly.
octagonal blenders that find application in pharmaceutical industry for gentle blending of dry granules or powder. The blender features an octagon shaped body with rectangular central portion and top & bottom polygonal frustum.
These are provided with baffles for fast and efficient mixing, charging port and outlet with butterfly valve.

Salient Features:-
The entire unit is mounted on a sturdy stand, complete with electric motor and gear box
It can be supplied with bin charging system and can be designed for vacuum, dust free charging & discharging of product (Optional)
The machine is provided with control panel board and safety railing
It is a slow speed blender and has a removable baffle mounted through a rectangular lid
simple design facilitates easy cleaning
The power consumpltion is comparatively lower that the other similar type of blenders
Capacity available 100 ltrs to 500- ltrs, and 3 to 5ltrs for R & D Models
Contact parts in limit switch is provided for operators safety & manual inching arrangement
Flame- proof motors with flameproof push button stations can be provided