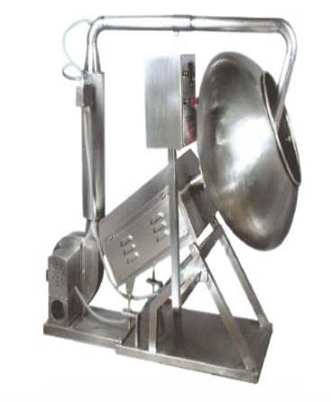 The coating pan is a single drive, back side-entry low speed coating unit. It has a main coating perforated rotating chamber mounted at rear end to the shaft with a sprocket wheel and chain drive mechanism. Motor of suitable HP directly connected to gear box with a output shaft mounted with sprocket wheel.

Coating pan gets drive through belt drive and is balanced at the foot which supports the weight of pan and product being coated.

Coating Pan Units are stand-alone and modular. The Discharge of tablets is through front door which is having a provision for fitment of discharge chute for easy flow of coated material to container.

Salient Features
Conventional coating pan with very sturdy M.S or SS structure made of angle & channels which are convered from all the sides by covers & doors.
The Coating pan drive is through standard make heavy duty worn reduction gear box & electrical motor by neans of belt and pulley drive fitted on a rigid structure. Coating pan speed can be changed through variable frequency drive -optional with extra cost.
Coating pan made of SS 304/ SS 316 or SS 316L material and mirror polished from inside & outside.
Baffles either welded or detachable provided inside the pan considering Production requirements.