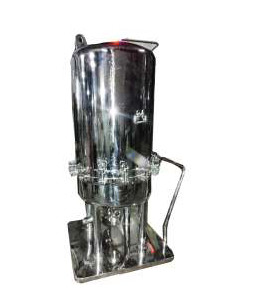 The primary usage of a filter press is as a "fixed volume, batch pressure filter." As a fixed volume filter, it is built to hold a specific quantity of solids. The term "batch" refers to the fact the cycle must be stopped to discharge the collected "filter cake" prior to restarting a cycle. "Pressure" is created by the feed pump in the separation process.
SALIENT FEATURES:
Complete filtration of the batch without any hold up due to reverse flow of liquid hence large saving in time & cost.
Back wash facility can be provided for continuous operations.
No scavenger arrangement required.
The cake, filter aid & solids remain totally enclosed allowing filtration of toxic, hazardous & explosive liquids.
No contamination of internal surface of shell.
The top dome structure ensures fast & easy removal of cartridge assembly & cleaning of cake.
Other features same as standard flow type.